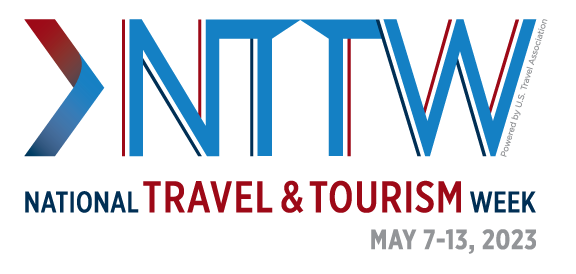 National Travel and Tourism Week (NTTW) is an annual industry tradition celebrating the value travel holds for our economy, businesses, personal well-being and more. May 7-13, 2023, marks the 40th anniversary of NTTW. MTC along with our tourism partners are demonstrating how integral travel is to every industry and nearly everything we do. Our recovery is the nation's recovery, and travel is essential to a future of growth and innovation. Join us as we keep moving #TravelForward.
National Tour & Travel Week Initiatives
The MTC Communications Committee has a couple of different initiatives for this week. This year will be featuring FIVE Faces of Tourism. To keep with the 40th Anniversary of NTTW, we are also working on "40 Reason WE Love Maryland". This will be a social media campaign over the 2 week span. 
The "My Iconic Maryland" Scavenger Hunt is coming back! We are in need of prize donations for our winners. If you can donate a prize, please email Ruth Toomey at ruth@mdtourism.org 
Event Schedule in Celebration of National Tour & Travel Week
MTC is working with our members and partner organizations to bring you events across the state as we move TRAVEL FORWARD in Maryland.  May is a busy time of year so we have some events that do not fall inside the "official" week but we want to include them as well. Keep checking back as we add more events.
May 2 – Maryland's Coast Commissions Proclamation | 10:00 am
May 4 – Harford County's Tourism & Hospitality Breakfast (invite only)
May 7 – May 20  – "My Iconic Maryland" Social Media Scavenger Hunt
In celebration of National Travel & Tourism Week, we invite Marylanders from all over the state to participate in this state- wide Scavenger Hunt! We've put together ten MARYLAND ICONS for you to find wherever you are! Find at least six of the icons and enter to win an amazing prize.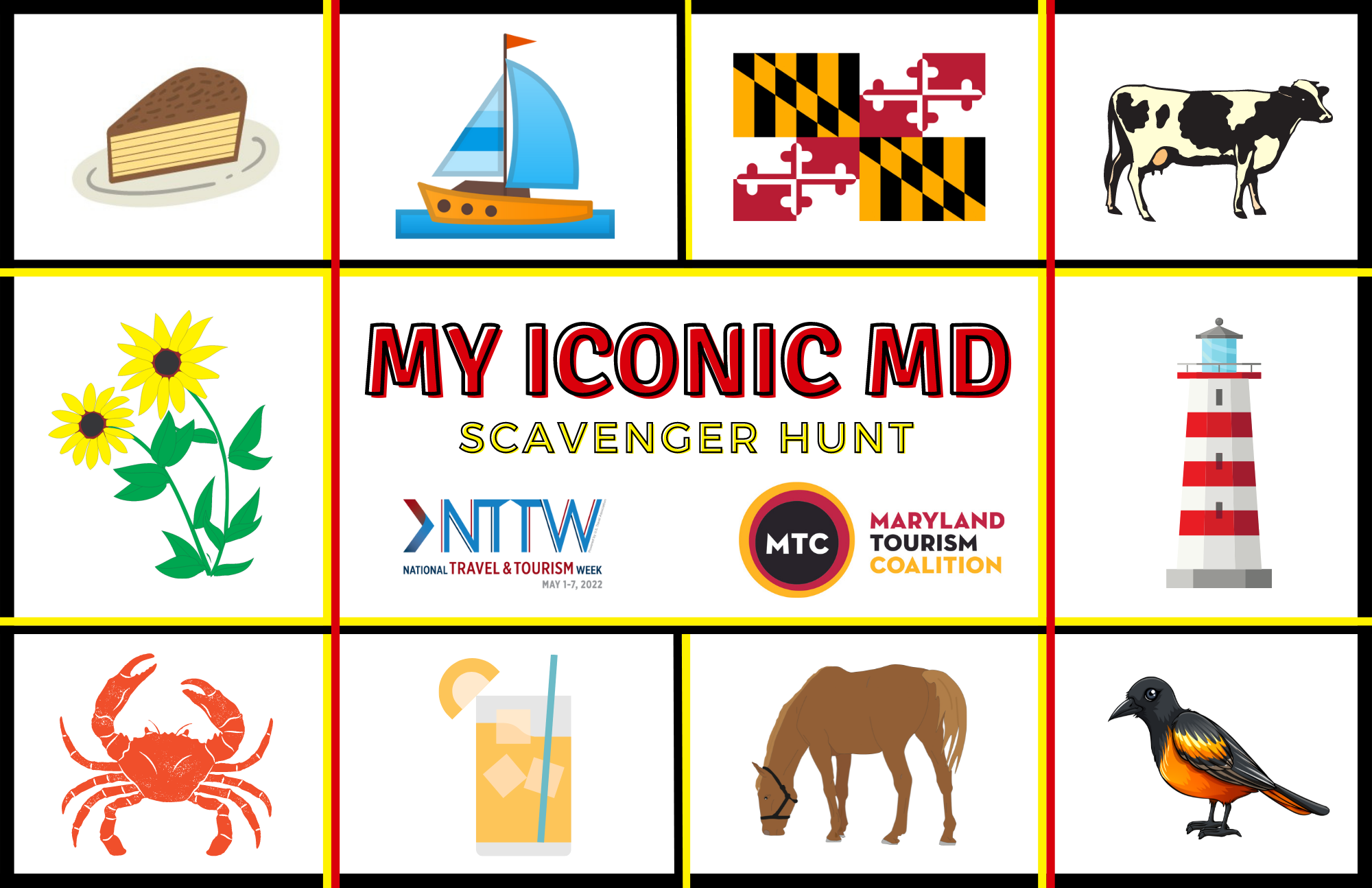 1. Black Eyed Susan
2. Crabs
3. Smith Island Cake
4. Cows & Dairy Farms
5. Horse
6. Maryland Flag
7.Lighthouse
8. Oriole Bird
9. Skipjack
10. Orange Crush
Take a selfie with at least six icons between Sunday, May 7 to Saturday, May 20, and be entered to win a prize a prize a prize at random. Winners will be announced Thursday, May 25. Enter to win by using #NTTW23MTC and #TourismWorks4MD on Facebook or Instagram. Winners will be contacted by direct message. By submitting your photos, you are granting MTC permission to use for future marketing purposes.
May 8 – NTTW Proclamation Reading | Annapolis City Dock | 10:00 am – 10:30 am
Each year, the Governor proclaims Maryland Travel and Tourism Week during an event held at a destination that is paramount to the Maryland travel experience. This year's destination is the Kunta Kinte Memorial at Annapolis City Dock. Please join the Maryland Tourism Coalition, Maryland Office of Tourism, Visit Annapolis, media and industry partners for this special National Travel & Tourism Week Kick-Off! The graduates of this year's class of Chesapeake Bay Storytellers program will be recognized during the proclamation event, and the importance of the Chesapeake Bay as a leading destination for domestic and international tourists will be focused upon during the event. Free to attend. Open to the public. Registration NOT required but highly suggested. Register Here
SOLD OUT!!! After the Proclamation Reading, attendees can take a free FAM Tour sail on the Schooner Woodwind. Sail will take place at 11 am and is two hours. The Schooner Woodwind sails out of the Annapolis Waterfront Hotel located at 80 Compromise Street. Space is limited and registration is required for this portion of the event!
May 9 – Maryland in a Day
Follow the adventures of Chris Riehl on social media as he takes on the Eastern half of the Great Chesapeake Loop.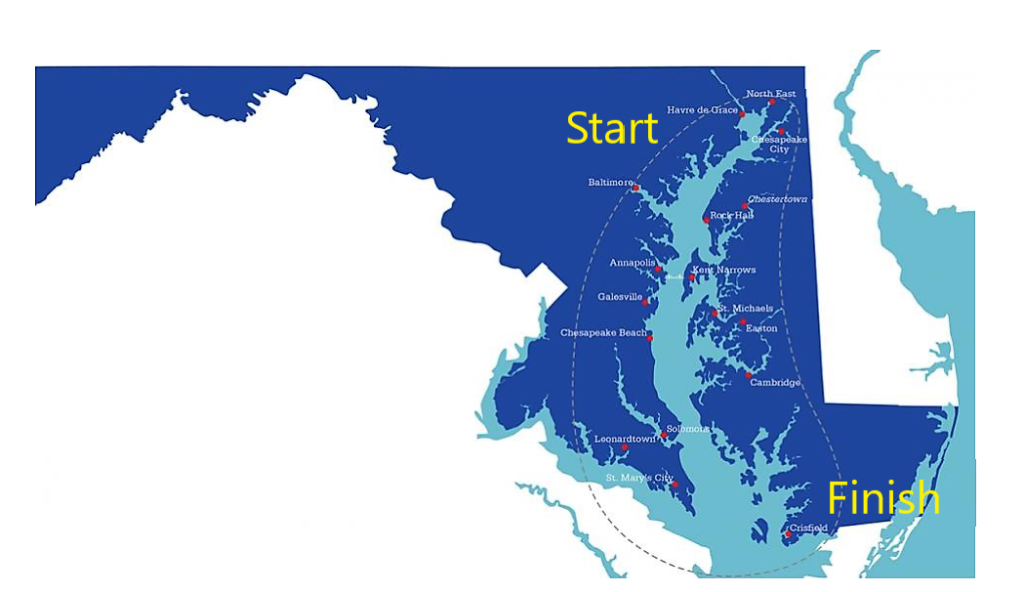 He will be starting in the City of Havre de Grace where they are celebrating 250 Years and ending in Crisfield with a slice of Smith Island cake to celebrate the 15th Anniversary of being designated the State Dessert.
Visit Baltimore Tourism Town Hall
Baltimore Visitor Center | 1:00 pm – 3:00 pm
In celebration of the "Travel Forward" theme, a 45-minute moderated discussion will spotlight major happenings within Baltimore's tourism industry and the impact that these changes will have on visitors and residents alike. Moderator questions will focus on tourism's essential role in stimulating economic and workforce development, cultivating diverse communities and accessibility. Registration is required for this event. Register here.
May 10 – Visit Baltimore Student Networking Event
Visit Baltimore is hosting a culinary competition alongside a workforce development and networking event for students from Baltimore City Public Schools. The event is private, but we encourage all partners to share any summer job openings they have for students in grades 9-11 to be advertised during the event. Please send your openings to Mia Blom, mblom@baltimore.org.
Visit Frederick Spring Social
Citizens Ballroom, 5:00 pm – 7:00 pm
May 11 – Regional Industry Meet Up | Guinness Open Gate Brewery, 4:00 pm – 6:00 pm
Join the Maryland Tourism Coalition and Industry Partners as we celebrate the 40th Annual National Travel & Tourism Week at the 1817 Restaurant located on the upper level of Guinness Open Gate Brewery. This event is an opportunity for members to reconnect, new members to meet fellow MTC members and our Board members. We have have also invited members from Baltimore County Office of Tourism & Promotion, Visit Annapolis & Anne Arundel County, Visit Baltimore, and Visit Howard County to join us in this celebration! We invite local businesses who would like to grow their business in the hospitality industry to join us to learn more about the Maryland Tourism Coalition and all the organizations participating.
This event is FREE to attend to all tourism industry professionals, but registration is required as a courtesy to the venue. Attendees are responsible for their own food & beverage. Please Note: This is a CASHLESS property and all ordering of food & beverage is done through a QR Code and your phone. Register Here
Registration closes Friday, May 5.
May 13 – Visit Baltimore Central Avenue Block Party
This lively community event will feature hotel tours, games, DJ sets, discounts from local businesses and prizes. Thank you to all participating businesses, including VB partners TRU by Hilton, Hyatt Place and K. Stewart Beauty & Wellness, for supporting this celebration! Discounted parking will be available in the Little Italy Garage at 400 S. Central Ave.
May 16 – Meetings Matters: Howard County Open House Expo
The Collective Offshore Encore, 12:00 pm – 2:30 pm
Meetings Matter in Howard County: Open House Expo is a FREE event for Howard County area businesses that host meetings and events brought to you by Visit Howard County. It is an opportunity to learn from area hotels and unique meeting venues that are available in your own backyard.
After registration, you have the opportunity to walk through the brand NEW Collective: Offshore restaurant as you network with as many as 20 amenities from around the County. As you work up your appetite from networking with exhibitors, you will proceed to the Collective's Encore entertainment side where you can sample some of their Executive Chef's newest items. No matter the size of your business gathering, Howard County has something for you! This opportunity brings some of the many resources together all under one roof!
May 17 – MTC Spring Seminar Sports Tourism: How to Effectively Navigate the Youth & Amateur Sports Industry in Maryland
Maryland SoccerPlex Adventist Healthcare Fieldhouse, 10:30 am – 4:00 pm
Join the Maryland Tourism Coalition at Montgomery County's largest premier multi-sport facility, Maryland SoccerPlex for this years Spring Seminar. Run by the Maryland Soccer Foundation, a 501(c)3 nonprofit, the Maryland SoccerPlex boasts 24 professionally maintained fields and a 66,000 square foot fieldhouse and is conveniently located just outside our nation's capital. This year we are focusing on Sports Tourism and how to effectively navigate youth and Amateur sports in the state of Maryland. Lunch to be provided by Yes Chef! More information on  Registration & Sponsorship can be found on the Spring Seminar Landing Page.
May 22 – Regional Industry Meet Up
Rocky Gap Casino Resort, 4:00 pm – 6:00 pm
Join the Maryland Tourism Coalition and Allegany County, the Mountain Side of Maryland to celebrate the 10th Anniversary of Rocky Gap Casino Resort! The celebration continues on Monday, May 22 at Signatures Bar & Grill from 4:00 pm – 6:00 pm. These events are for members to reconnect, new members to meet fellow MTC members and our Board members. We invite local businesses who would like to grow their business in the hospitality industry join us to learn more about the Maryland Tourism Coalition has to offer and how to become a member. This event is FREE to attend to all tourism industry professionals, but registration is required as a courtesy to the venue. Attendees are responsible for their own food & beverage. Register here
Open for Deals and Discounts
To welcome you to explore everything Maryland has to offer, Maryland's businesses are open for deals and discounts during National Travel & Tourism Week. Explore current deals & discounts https://www.visitmaryland.org/article/deals
We are encouraging both MTC Members and non-members to post a deal for the weeks of May 7- May 20 to help attract visitors to your business during this time. MTC will be sharing member deals on our social media as well as linking the site to the NTTW Landing Page.
The "Deals" link will provide you the ability to input your information directly. You can include a picture, special offers and remove any blackout dates from your offer. In addition, you may also submit any special events, dinners and special offers. Consumers will click to the deals and the links will take them to your site for purchase. The cost to participate is FREE!
The Deals section may include offers from lodging, dining, attraction or other tourism partners. This may be for special lodging rates, discounted admissions, buy-one-get-ones, special restaurant discounts or bonus purchases. We encourage you to offer these seasonal specials, not the generic 10% off rack rate. Discounted rates work, but also think about added-value incentives. Submitted deals must be tourism-related and is open to both MTC Members and Non-Members.
Please fill out your deal by visiting the following link: https://mdyoda.milesmediagroup.com/PublicEditor.aspx. If this is your first time using this section, you will need to register, using your email address and creating your own unique password. Please be sure to include a photo with your deal.
Any questions related to the Deals section should be directed to Brandon Chan, 301-447-3719, brandon.chan@maryland.gov or Flo Brant, 301-293-4172, florence.brant@maryland.gov
Media Resources for National Travel & Tourism Week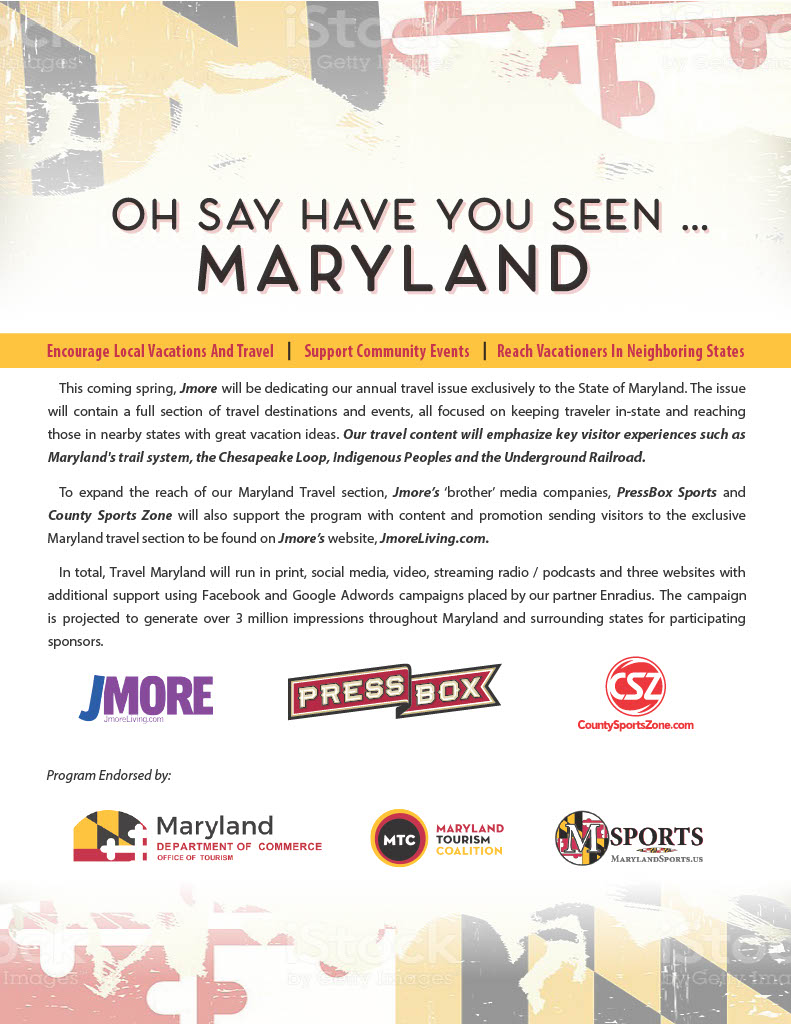 Oh Say Have you Seen…..
MARYLAND
This coming spring, Jmore will be dedicating our annual travel issue exclusively to the State of Maryland. The issue will contain a full section of travel destinations and events, all focused on keeping traveler in-state and reaching those in nearby states with great vacation ideas. Our travel content will emphasize key visitor experiences such as Maryland's trail system, the Chesapeake Loop, Indigenous Peoples and the Underground Railroad.
To expand the reach of our Maryland Travel section, Jmore's 'brother' media companies, PressBox Sports and County Sports Zone will also support the program with content and promotion sending visitors to the exclusive Maryland travel section to be found on Jmore's website, JmoreLiving.com. In total, Travel Maryland will run in print, social media, video, streaming radio / podcasts and three websites with additional support using Facebook and Google Adwords campaigns placed by our partner Enradius. The campaign is projected to generate over 3 million impressions throughout Maryland and surrounding states for participating sponsors.
For more information, please contact: John Coulson, Managing Partner, PressBox / Jmore | johnc@pressboxonline.com
The Business Monthly Special Section
Whong Media is currently working on the special section celebrating the "National Travel and Tourism Week 2023," which will be part of the May issue of The Business Monthly, based in Columbia, Maryland. Coverage of the tourism industry's critical role in powering economies, communities and connections will be included in the section.
With an estimated 55,000 readers, The Business Monthly reaches business professionals, business owners, thought leaders and community leaders in Howard County, the BWI Business District and Anne Arundel County. It is mailed to hundreds of decision-makers in Central Maryland and 25,000 copies are distributed at more than 325 outlets for wide readership. The Business Monthly is the largest print media in Howard and Anne Arundel Counties.
Deadline for space reservations is Tuesday, April 18 and ad copy is due Friday, April 21.
For more information, please contact Susanna Michelsen | The Business Monthly | (202) 210-6269 (cell)
susanna@whong.media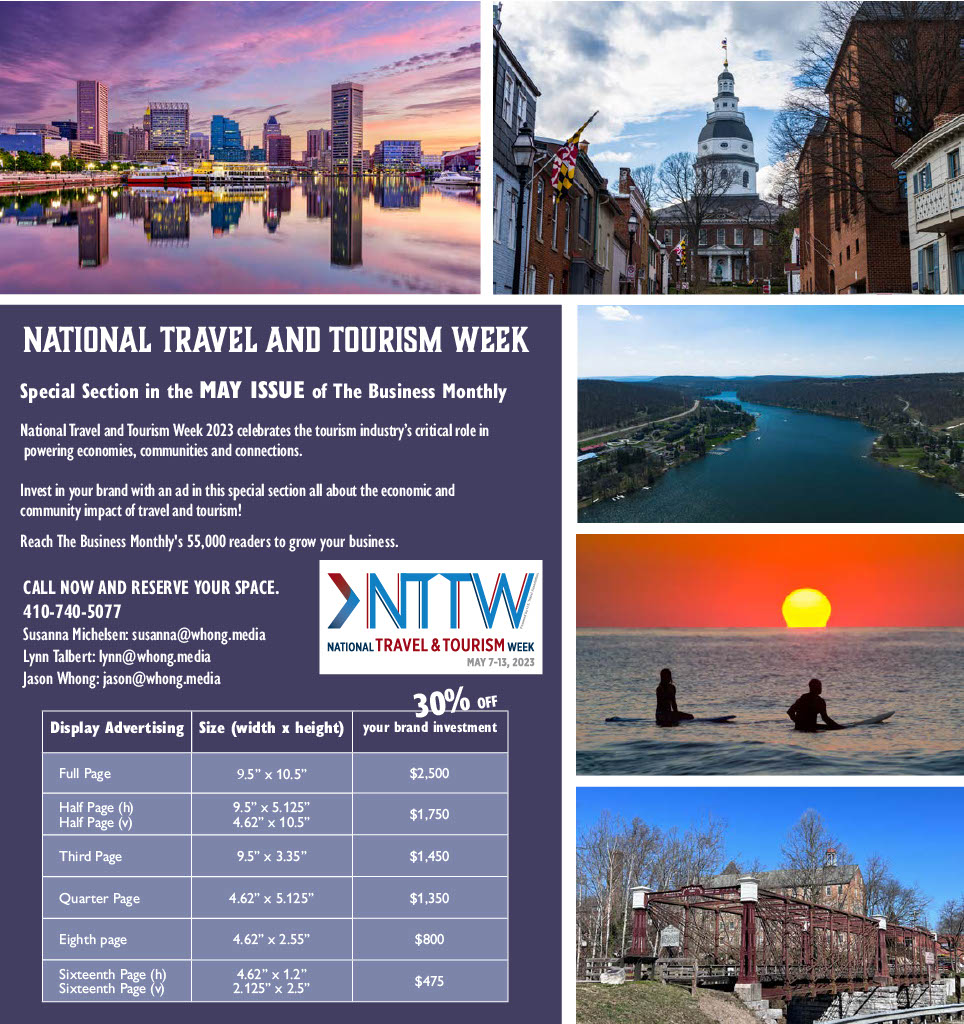 Thank you to the businesses who have donated for National Travel & Tourism Week 2023:
Cambria Hotel Ocean City Bayfront | Courtyard Baltimore Downtown/Inner Harbor | Medieval Times | Mermaid Tasha | National Aquarium | Phillips Seafood | Press Box | Project Liberty Ship (SS John W Brown) | Stratosphere Social | Sugar Water Manor| The Hobbit | Vandiver Inn | Visit Dorchester | Watermark | Wisp Resort | Xenia Greek Kouzina | Yes-Chef the Art of Food