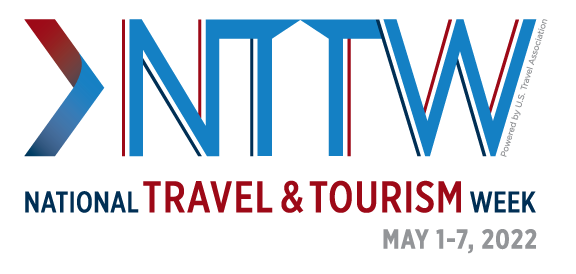 This year National Travel and Tourism Week is May 1-7, 2022. NTTW will recognize the FUTURE OF TRAVEL and it's a time when travel and tourism professionals across the country unite to celebrate the value travel holds for our economy, businesses, communities, and personal well-being.
Event Schedule in Celebration of National Tour & Travel Week
MTC is working with our members and partner organizations to bring you events across the state as we celebrate the FUTURE of TRAVEL in Maryland.   (These events are subject to change.)
April 30 – May 7
"My Iconic Maryland" Social Media Scavenger Hunt
In celebration of National Travel & Tourism Week, we invite Marylanders from all over the state to participate in this state-wide Scavenger Hunt! We've put together ten MARYLAND ICONS for you to find wherever you are! Find at least six of the icons and enter to win an amazing prize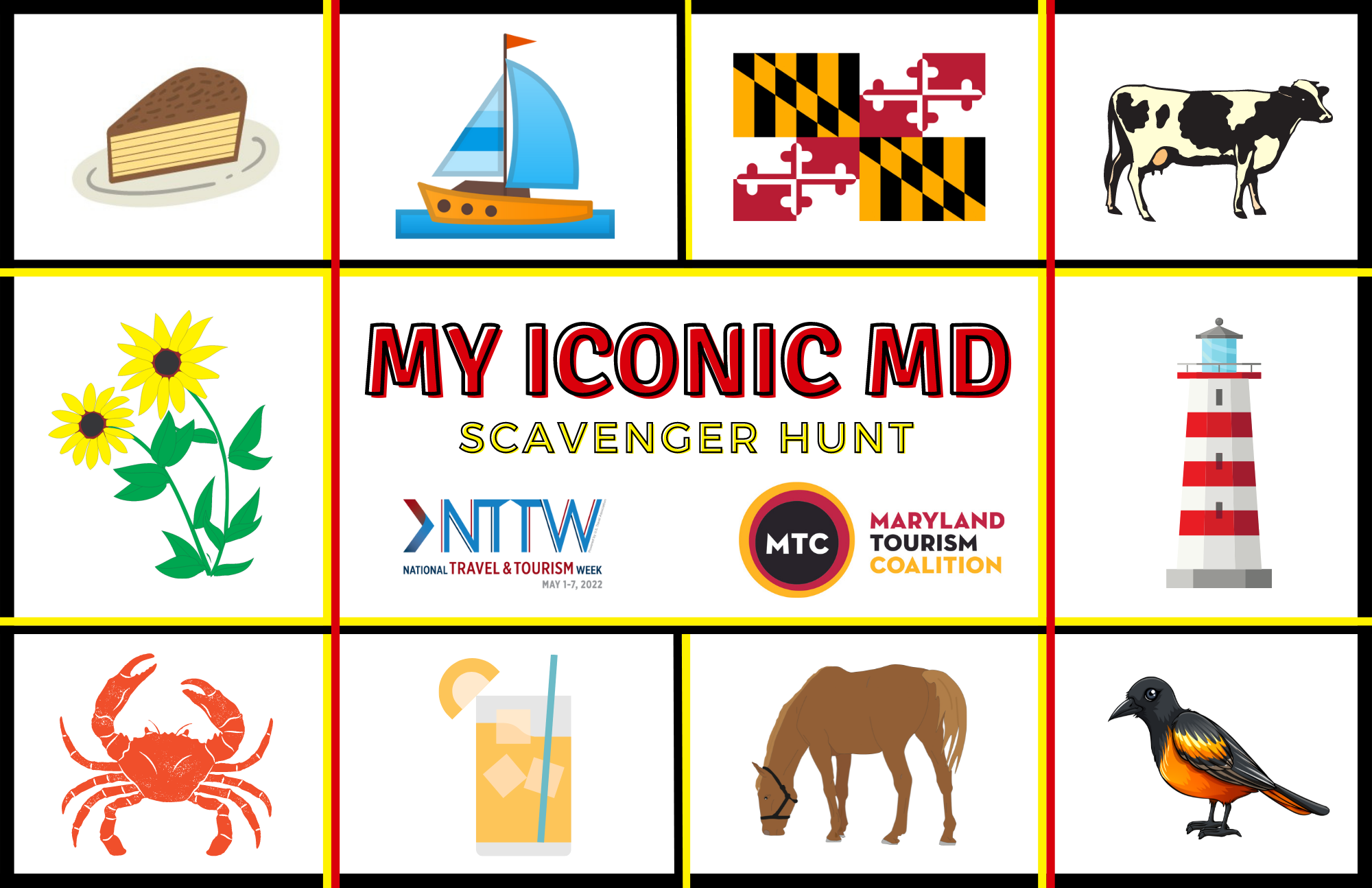 ICONS
Black Eyed Susan
Crabs
Smith Island Cake
Cows & Dairy Farms
Horse
Maryland Flag
Lighthouse
Oriole Bird
Skipjack
Orange Crush 
INSTRUCTIONS FOR PLAY
Take a selfie with at least six icons between Saturday, April 30 to Sunday, May 8, and be entered to win a prize a prize a prize at random. Winners will be announced Thursday, May 12. Enter to win by using #NTTW22MTC and #TourismWorks4MD on Facebook or Instagram. Winners will be contacted by direct message. By submitting your photos, you are granting MTC permission to use for future marketing purposes.

Mayor's Spring Clean Up with Visit Baltimore
Before the week even begins, you can get in the spirit by participating in Mayor Scott's Spring Cleanup on April 30. From 9 a.m. to 1 p.m., residents citywide will come together to clean and beautify their neighborhoods. The Mayor's office has named Traci Atkins Park, found near Pigtown, the designated cleanup site of Visit Baltimore and its partners, and all necessary tools will be provided. Those interested in joining our crew should email Mia Blom, mblom@baltimore.org 


"Get Ready for Guests"
Industry partners, show us how you are cleaning up your curbside appeal for your guests throughout the week. Post pictures to either Facebook or Instagram and use the hashtags #WereReady4MD and #TourismWorks4MD 


THEME: Facilitating Recovery
Visit Annapolis & Anne Arundel County In-Person Job Fair
BWI Airport Marriott, 9am – 12pm 
Hospitality and tourism industry employers including restaurants, tourist attractions, hotels, motels, and inns, retail establishments, entertainment venues, and more – will have the opportunity to meet one-on-one with prospective job seekers at NO COST during the in-person job fair at the BWI Airport Marriott on Monday, May 2nd.

THEME: Increase Global Competitiveness
NTTW Proclamation Reading
BWI Airport, Art Gallery- Concourse D, 10:00 am – 10:30 am
Join the Maryland Office of Tourism, Maryland Tourism Coalition and industry partners for the reading of the Governor's Proclamation for NTTW! While the Governor will not be there himself, we will have other State leaders and guest speakers. After the reading, please join MTC and industry members for lunch at Timbuktu. The event is free to attend but registration is required. Attendees are responsible for their own food & beverage.

THEME: Rebuilding America's Workforce
Statewide Job Fair

, 9:00am – 12:00pm
Maryland's Coast Business Mixer
Mermaid Museum, 5:00 – 7:00pm
Join the Maryland's Coast at the Mermaid Museum on Wednesday, May 4 at 5:00pm to mix and mingle with Economic Development and Tourism professionals across the region! Refreshments will be provided by local eateries.
Visit Frederick Spring Membership Social (invite only)
Union Mills Public House, 5:00pm-7:00pm
Visit Frederick is hosting their annual Spring Membership Social at Union Mills Public House.
The Hotel at the University of Maryland, 3:00 – 7:00pm
7777 Baltimore Ave, College Park, MD 20740
Seminar 3:00 – 4:00pm (cost)
Mix & Mingle, Lobby Bar 4:00- 7:00pm
As part of NTTW, the MTC Education Committee presents their next educational seminar, in-person, followed by a Mix & Mingle on Wednesday, May 4 at The Hotel at the University of Maryland to showcase the importance of meeting in person again! This educational seminar is sponsored by Southern Management Hotel Division. Those who pay to attend the seminar will receive a drink ticket for one free drink at the Mix & Mingle at The Hotel's Lobby Bar. The Mix & Mingle is FREE to attend to all tourism industry professionals, but registration is required. Attendees are responsible for their own food & beverage.
Seminar Description: A discussion surrounding the usage and benefits of business social media pages. We will review organic posting options and best practices to help you connect with existing clients and attract new ones.
How often are you using your social media platforms?
What do you feel is holding you back from optimizing your social platforms?
What information are you hoping is covered in the session?
$15 for Members and $25 for Non-Members. Mix & Mingle is FREE but you still must register to attend!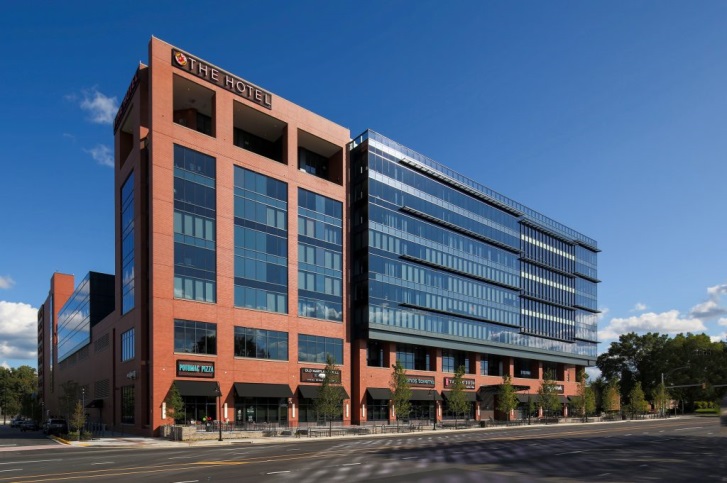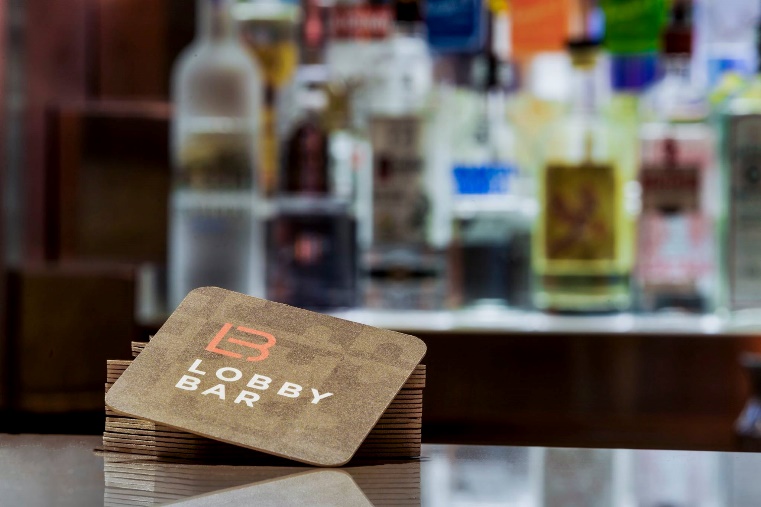 THEME: More Inclusion
Harford County Tourism Breakfast
To celebrate National Travel & Tourism Week, Harford County, in partnership with VisitHarford!, is hosting a Tourism & Hospitality Appreciation Breakfast. Guest speakers include Harford County Executive, Barry Glassman, Office of Community & Economic Development Director Len Parrish, VisitHarford! Executive Director Matthew Scales and Managing Director of the Maryland Department of Commerce Office of Tourism and Film Liz Fitzsimmons. Special award recognition for industry stars with a Secretary of Commerce Proclamation!
Maryland in a Day
MTC Board Chair, Chris Riehl will travel across the state of Maryland. He will start in Ocean City at Sunrise and will end the day with a Sunset in Garrett County making stops along the way. Chris will be making stops along the way to showcase the state. Follow Chris on this journey on the
MTC Facebook Page
!!
Visit Baltimore Tourism Advocacy Summit
Online via Zoom or in-person at the Visit Baltimore office, 400 East Pratt St, 9am-10:30am
Join us for a panel discussion moderated by President Don Fry of the Greater Baltimore Committee, which will highlight areas of advocacy for the tourism and hospitality industry during this recovery and rebuilding period. Topics will include workforce development, the development of products to support industry needs and more.

THEME: In-person
Talbot County Business Appreciation Summit 
Special award recognition for industry stars with a Secretary of Commerce Proclamation!

THANK YOU TO OUR SPONSORS!
Thank you to the businesses who have donated for National Travel & Tourism Week 2022:
Medieval Times, National Aquarium, Yes-Chef, Hilton Garden Inn Baltimore Inner Harbor, Live! Casino & Hotel Maryland, Titan Hospitality, Turf Valley, EMR Commercial Kitchen & Industrial Services Company (icon image), Calvert Nature Society, Calvert Cliffs State Parks, Maryland Horse Breeders Association, The Pier Restaurant, Maryland Road Trips, Calvert Nature Society, Calvert Cliffs State Parks, The Pier Restaurant, Mamas on the Half Shell, Maryland Horse Breeder's Association, Heartland, Black Eyed Susan Gifts, United States Naval Academy Visitor Services, KRR Photography and Calvert Marine Museum
Thank you to the businesses who are donating services for Chris's "Maryland in a Day": Ocean City Fontainebleau Resort, Maryland's Coast and T.C. Studios