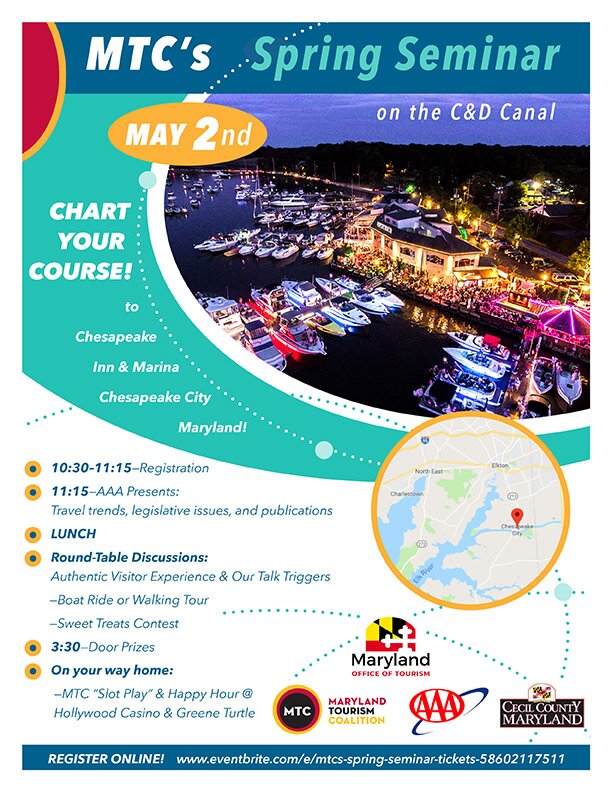 DON'T DRIVE INTEXTICATED
YOUR SAFETY, AND THE SAFETY OF FAMILY AND FRIENDS, IS AT STAKE.
Please join us in the fight to end DISTRACTED DRIVING by taking the pledge online at AAA.com/DontDriveDistracted
Early Bird Rates Available until April 5th!
Early Bird MTC Member $30
Early Bird Non-Member $35
After April 5th Member $40
After April 5th Non-Member $45
Sales End April 29th!
SPONSORSHIP OPPORTUNITIES & BENEFITS
PARTNER – $500
• Complimentary registration for 2 ($60 member value; $70 non-member value)
• Name & Logo recognition on MTC's Spring Seminar webpage
• Name & Logo recognition on-site at event
• On-site Signage
• Recognition from podium during the event
PREMIER – $1,000
• Complimentary registration for 4 ($120 member value; $140 non-member value)
• Name & Logo recognition on MTC's Spring Seminar webpage
• Name & Logo recognition on-site at event
• On-site Signage
• Recognition from podium during the Tourism Day event
PREMIER SPONSOR – $2,500
• Complimentary registration for 5 ($150 member value; $175 non-member value)
• Name & Logo recognition on MTC's Spring Seminar webpage
• Name & Logo recognition on-site at event
• On-site Signage
• Recognition from podium during the event
Download MTC Sponsorship Agreement
---

Sponsors