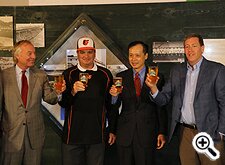 Comptroller Peter Franchot, Assistant Secretary Ben Wu of the Maryland Department of Commerce, Secretary Joseph Bartenfelder of the Maryland Department of Agriculture, and industry partners gathered at Peabody Heights Brewery in Baltimore to introduce the Maryland Baseball & Brew Scorecard. Baseball & Brew is a partnership between the Brewers Association of Maryland, the Maryland Comptroller's Office, and OTD, which encourages travel across Maryland to experience craft breweries and baseball-themed attractions. "Maryland has a proud and rich heritage in both baseball and the brewing industries," said Comptroller Franchot. "This new Baseball & Brew Scorecard promotion encourages Marylanders and tourists alike to explore every region of our wonderful state and experience the sights and sounds of baseball and the taste of our award-winning craft beer." Read more here.
Assistant Secretary Wu said, "Breweries are economic engines for the communities in which they establish themselves." He noted that breweries help establish other small businesses such as food trucks, restaurants, boutique shops and artist studios that attract visitors and improve the quality of life in surrounding neighborhoods.
Pick up your Maryland Baseball & Brew Scorecard at Maryland Welcome Centers and participating breweries, then "hit a home run" by having a drink at a Maryland craft brewery – 1st base; dine at a local restaurant – 2nd base; visit a Maryland baseball attraction – 3rd base; and stay overnight – home plate. Share your experiences on social media with the hashtag #brewsandbasesMD.